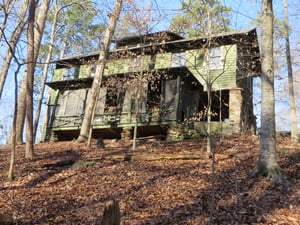 $

15.00
Beech Haven is a historic family estate and summer retreat first purchased by Charles A. Rowland II over 100 years ago. Beech Haven is now surrounded by suburban and commercial development but remains a secluded natural sanctuary, essentially unchanged since the 1930s, convenient to thousands of Athens-Clarke County (A-CC) residents.
A-CC has to date acquired approximately 90 acres of Beech Haven located off the Atlanta Highway along the Middle Oconee River. In 2014-2015, the Athens-Clarke Heritage Foundation raised over $60,000 that was used to repair and stabilize the extremely historic and significant summer house and stone camelback bridge.
Now, ACHF is working to partner with Athens-Clarke County to plan for the future use of this property and to continue to support the preservation, protection and documentation of Beech Haven as an important historic and natural retreat for the benefit of the public.
Please consider making a generous donation to this effort. Questions? Contact us at 706-353-1801 or achf@bellsouth.net.