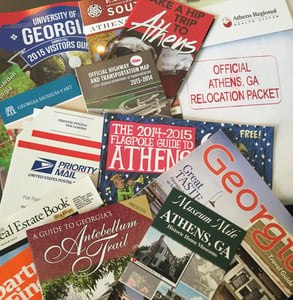 $

8.50
Moving to the Classic City?
In advance of your move, order an Athens Relocation Packet to receive an assortment of Athens brochures, local and State maps, and other useful information about the area. Relocation Packets are shipped USPS Priority Mail at a cost of $8.50 each. Call 866-455-1820 to place an order or click here to order online.
Already in the area? Stop by the Athens Welcome Center to pick up a Relocation Packet for free!